Nov-Feb
Best time to visit
Bodh Gaya is a village in the state of Bihar. As the site of the Buddha Shakyamuni's enlightenment, Bodh Gaya is the most revered of all Buddhist sacred sites.
The main temple complex houses the famous Mahabodhi temple/stupa and a descendant of the original Bodhi Tree under which the Buddha gained enlightenment. Inside the Mahabodhi temple complex, you can also enjoy the Lotus Pond or the mation garden. Bodh Gaya has temples or monasteries from many other nations with a Buddhist tradition (Bhutan, Bangladesh, China, Japan, Myanmar, Sri Lanka, Thailand, Tibet), all within easy walking distance from the Mahabodhi temple.
Get in 
By plane
The nearest airport is at Gaya (17 km) – Druk Air flies from Bangkok once a week. Thai Airways flies to Gaya daily. Indian Airlines flies from Kolkata on Fridays at 10.00 AM and Returns back on Mondays from Gaya at around 15.00 hrs. Air India flies from New Delhi via Varanasi every day. Indigo also fly from New Delhi
Alternatively, you may take a flight to the Patna Airport (110 km away) and take a train or a taxi to Bodh Gaya as Patna has multiple daily direct flights to Delhi, Kolkata, and Mumbai. Bangkok can be used as a hub to change flights to Kolkata (There are many daily flights Bangkok-Kolkata-Bangkok) and Kolkata is connected to Patna by 4 or 5 Daily Flights. So for southeast Asia, the best-suited connection is Via Bangkok-Kolkata-Patna.
Patna Airport-Bodhgaya-Patna Airport Transfer is available by Pun pun Trails (Local Travel Agent) around the year and can be booked online
By car
One may take a flight to the Patna Airport (110 km away) and take a train or a taxi to Bodh Gaya as Patna has multiple daily direct flights to Delhi, Kolkata, Mumbai, Pune, Bangalore, Lucknow, and Hyderabad. The road is good now but narrow so the journey can be quite slow and dangerous. It takes roughly 3 hours from Patna to reach, on the best way is to avoid the Gaya market, as the roads are very narrow.
By train
The nearest Railway station is Gaya (16 km). From there you can take a bus or a three-wheel taxi to Bodh Gaya. Three-wheel taxi price is extremely variable, depending on the time of day, but should be between 80-120 Rs. You should bargain considerably, there is rarely a shortage of service.
The train from Patna (which is the nearest good size airport and railhead) to Gaya costs 34 rupees (as of January 2008). The express trains take about two hours. Best train travel from Calcutta is about 8 hours; from Delhi, about 15 hours (2nd class air-con costs 1600 rupees; book upstairs at the Gaya station then pay downstairs at window 29).
The train is also recommended.
By bus
There is a main road connecting Bodhgaya and Gaya. The Bihar State Tourism Development Corporation (Tel: 0612-2225411) runs daily deluxe bus services to and from Bodh Gaya. Buses for Varanasi to Bodhgaya, Bodhgaya to Nalanda, Rajgir, Kathmandu
See
The Mahabodhi Temple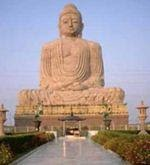 80-foot Buddha Statue
Most temples open from 6 AM to sunset and close between noon and 2 PM.
Bodhi Tree

 – it is believed that this tree is a direct descendant of the one under which the Buddha Sakyamuni attained enlightenment, inside the Mahabodhi complex.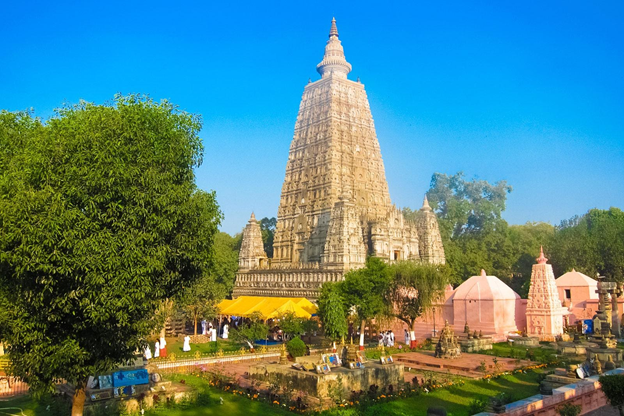 Royal Bhutanese Monastery
Japanese temple

 (

Indosan Nippon

)
Archaeological Museum

, closed Fridays, Rs. 10 (foreigners and locals alike). Possess a small but interesting selection of Buddhist and Hindu artifacts from Bodh Gaya and other nearby excavation sites. Photography not allowed.
Tergar Monastery

Yongey Mingyur Rinpoche
Phowa Center

Choeje Ayang Rinpoche
Gendhen Phelgyeling Monastery
Karma Dhargye Chokhorling Monastery
Kagyu Monlam Chenmo

prayer Festival, January
Nyingma Monlam Chenmo

prayer Festival, January/February
Bodhgaya Multimedia Museum

, Located next to the Mahabodhi Temple, Open all 7 days of the week. Museum provides the historical and geographical context for the life of Buddha through a set of Multimedia films and 3D Animation movies. 
Barabar Caves

, the oldest surviving rock-cut caves in India, mostly dating from the Mauryan period (322–185 BCE), and some with Ashokan inscriptions, located in the Jehanabad District, 24 km north of Gaya.
Taiwanese Temple

 (World Chunghwa Buddhist Sangha).
Do
Bodh Gaya is essentially a pilgrimage destination for Buddhists and all of its main attractions are related to this. The subsidiary tourist industry that has grown up around it (shopping, eating, and accommodation) is not really the main attraction. Perhaps unique to Bodh Gaya are the rather cheesy CDs for sale near the temple entrance that purport to be monks chanting Buddhist texts. You will know whether you want to take this home with you!
Beware
Don't fall prey to people on motorbikes posing as tourist guides, offering a local tour for a price multiple times than genuine price of around 500-1000 INR. (Check whether they have a genuine Government-issued ID card)
Please note that every tourist attraction in Bodh Gaya is easy to locate and is within 5-15 minutes walking distance from the Mahabodhi Temple complex. If you do wish to hire a local tour guide, for example, to visit the Barabar Caves (20 K.M.) or Dungeshwari Caves (12 K.M.), first ask for their official Bihar State Tourism Development Corporation ID card; and then bargain. It should NEVER be more than INR 500-1000 for an entire day trip on a motorcycle, no matter how far you drive out of town.
Usually, like all tourist places, street vendors and shop keepers overcharge for their goods. Be prepared to bargain heavily in souvenir shops.
Note
There are no mobile phones allowed inside the Mahabodhi Temple. The security is tight and they will dig through your bags looking for phones. Cameras are allowed but require an INR 100 rupee camera ticket. Video camera tickets cost INR 500.
Wearing shoes inside the temple complex is prohibited. You must leave your shoes at the entrance in a public area with hundreds of other shoes. You may choose to wear heavy socks.
DAY 1
Upon reaching Gaya airport, you are met by our tour guide and your private air-conditioned car accompanied by a good driver driving throughout your tour of Bodhgaya. Finish the check-in formalities and relax. Evening you are free to visit nearby places and Market area, back to Hotel. Overnight stay at Hotel in Bodhgaya.
DAY 2
After a Healthy breakfast, English Speaking guide picks you and take you on a Trip to Bodhgaya. Visit MAHABODHI TEMPLE built by Ashoka the Great in 3rd Century BC. Inside the temple, there are seven sacred and essential places where Lord Buddha spent seven days each at one place after attaining enlightenment. Visit the SACRED BODHI TREE. Also, Visit SRILANKA, THAI, VIETNAM, MYANMAR MONASTERY. After that visit, SUJATA VILLAGE -The young lady Sujata, daughter of Senani (Head of Uruvela village), had offered Porridge (Kheer preparation of Rice, Milk & Sugar) to Siddhartha when he was returning from Dongeswari Caves after six long years of meditation and when Siddhartha was still in search for an appropriate place for his reflection of enlightenment. Evening back to Hotel. Overnight stay at Hotel in Bodhgaya.
DAY 3
Same Day Trip to Rajgir-Nalanda University: After Healthy breakfast, start same day excursion to Rajgir and Nalanda. Visit to GRIDHRAKUTA, SAPATAPARNI CAVE, BIMBISAR JAIL, AJATSATRU FORT AND VENUVANA. The afternoon after lunch, transfer to Nalanda. On arrival, start sightseeing of NALANDA UNIVERSITY, founded in the 5th century. Also, See MONASTERIES AND TEMPLES with impressive Buddhist & Hindu images. Drive to Bodhgaya. On arrival, check-in and relax at Hotel. Back to Hotel. Overnight Stay at Hotel in Bodhgaya.
DAY 4
Bodhgaya to Gaya Airport (By Drive) – On the Fourth day, relax at Hotel till Noon. As per the scheduled time Driver pick you up and departure to Gaya Airport. Tours End with Sweet Memories.
After confirmation of any Package request: 50% of tour package cost required immediately to book all the respective services.

07 days prior to arrival date: 100% of tour package cost required.

All payments must be notified by e-mail format only with attached transaction details.

Payment terms are subject to change at the time of booking as per Hotel Policy and High Season.

We will not entertain any credit facility.
All cancellations must be made in e-mail format only.

Any cancellation at 45 Days prior to arrival date – No charge

Any cancellation between 45 Days – 30 Days prior to arrival date: 25% of tour fare charge

Any cancellation between 30 Days – 15 Days prior to arrival date: 50% of tour fare charge

Any cancellation between 15 Days – 10 Days prior to arrival date: 75% of tour fare charge

Any cancellation less than 10 Days: 100% of tour fare charge.